Eating Better is a supporter of the Glasgow Food and Climate Declaration and attended the official presentation at Glasgow City Chambers on COP26 Nature Day.
Global food systems account for one third of total greenhouse gas (GHG) emissions and drive deforestation, nature loss and climate change. Science tells us that we cannot tackle the challenges we face, without addressing how we produce and consume food. 
Food and farming haven't been adequately featured at COP26, but local governments from across the world have come together as signatories to the Glasgow Food and Climate Declaration recognising that with the right support, sustainable food and farming can be a local hero in ensuring everyone has access to healthy food that is good for people and planet. 
Signatories to the Glasgow Food Declaration. Eating Better's executive director, Simon Billing, back row, fourth from left 

The declaration is an initiative of IPES-Food and Eating Better alliance member, Nourish Scotland, in collaboration with Glasgow City Council, ICLEI (local governments for sustainability), C40 (a global network of mayors in 97 cities taking action on climate change), the Under2 Coalition (a global community of state and regional governments) and other partners. It brings together more than 100 local governments from across the world pledging to tackle the climate emergency through a holistic approach to food and farming, recognising that "the majority of sustainable food system innovation and change are occurring at the local and regional levels."
Pete Ritchie, Director of Nourish Scotland, said: "Building a global food system which works for people, climate and nature means practical changes on the ground for hundreds of connected but resilient local food systems.  That's why cities and farmers are key to the change. The Glasgow Declaration calls for multi-level governance and for local partnerships between local governments and farmers, supported by national and international policies. Food will be higher up the agenda at COP27, and cities, regions and farmers will be there."
Simon Billing, Executive Director said: "The Glasgow Declaration shows what's possible when people come together to reach a common goal of achieving fair and sustainable food systems, focused on local producers working in harmony with nature.  Successfully supporting people to eat better requires a depth of understanding about the needs and preferences of the local population, and an effective network of relationships with local communities. But to create change on the scale that's required, this dynamic local action needs to be underpinned by strong national and international policies that recognise the pivotal role our food systems can play in tackling climate change, nature loss and eradicating hunger."
At the event, held in Glasgow City Chambers, a panel discussion was moderated by former UN Special Rapporteur on the right to food, and City of Istanbul representative, Hilal Elver. Delegates heard from a range of local authorities and city mayors leading the way in pioneering integrated food policies to drive food system change at a local, city and regional level. 

Elizabeth Gulugulu, agricultural working group of the Official Youth Constituency at UN Climate Change said: "It starts with the soil - if we violate the laws of nature by putting different kinds of chemicals into the soil - this is not healthy or sustainable. Climate change is a cross-cutting issue, including food systems."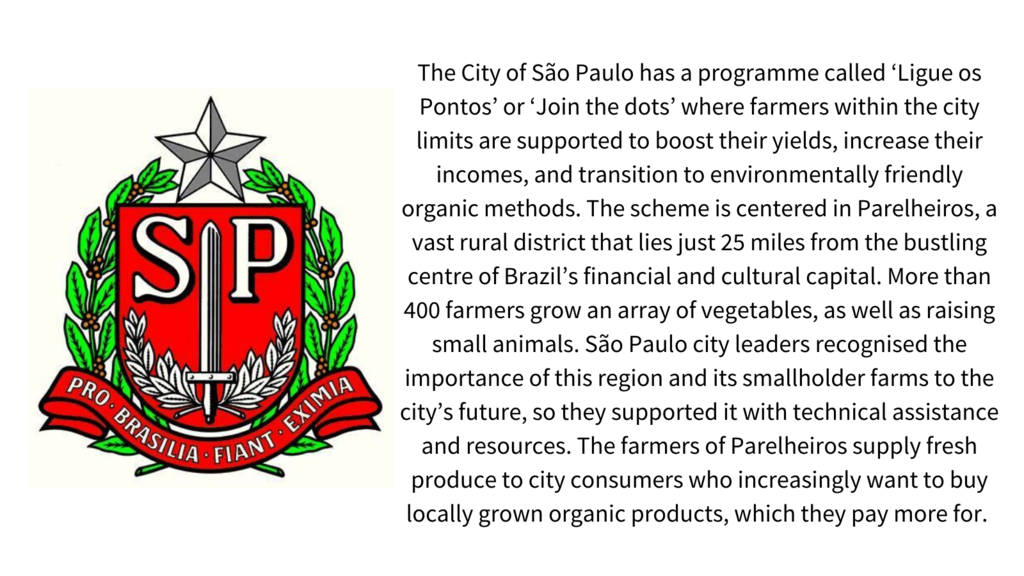 Francisco Castro, Special Advisor for Sustainability, City of São Paulo, Brazil said:  "We support this [The Glasgow Declaration] ground breaking commitment to address local agriculture in the fight against climate change. It's how we produce and consume - it's the full circle."
Tunç Soyer, Mayor of Izmir, Turkey said: "Climate change and the climate crisis directly affects the agricultural process. Another kind of agriculture is possible - supporting the small farmers to stay in their villages and continue production, using less water and less resources."
From left to right - Elizabeth Gulugulu, Francisco Castro with Shona Robson MSP and Tunç Soyer, Mayor of Izmir

Cllr Susan Aitken, leader of Glasgow City Council said "The principles [of the Glasgow Declaration] are local, sustainable and community led. Food is the point where climate change and health really come together.  We're proud that the Glasgow Declaration will have an impact and a life far longer than these 12 days of the COP negotiations.  This is one of the legacies for Glasgow and we hope to continue to shape it in the years ahead."

 Councillor Susan Aitken, leader of Glasgow City Council on the right

Download the Glasgow Food and Climate Declaration here