Peas Please have launched the third report in their Veg Facts Series which continues to show both adults and children are not consuming enough veg to meet the Government's Eatwell Guide recommendations, with 29% of 5-10 year olds eating less than a portion of veg a day. This is likely to have a long-term impact on our health with diets that are low in vegetables and legumes associated with just under 18,000 premature deaths a year in the UK.
The Veg Facts 2021 report also highlights where children are getting their vegetables from, with over a fifth of children's and teenager's vegetable intake now coming from foods classed as Ultra Processed which are often high in salt, sugar and fat. Baked beans and pizza together contribute 16% of children's vegetable intake. 
Furthermore, dietary inequality continues to widen with the richest 20% on average eating one more portion of veg a day compared to the poorest 20%. A key vision of the Eating Better 'Better by Half' roadmap is good access to a healthy, sustainable diet for everyone, including those on low-incomes, by 2030.  Amongst other actions, achieving this will require the UK government to ensure healthy and sustainable dietary guidelines underpin all policy development, and sustainable diets are normalised through public procurement in our schools, universities and hospitals.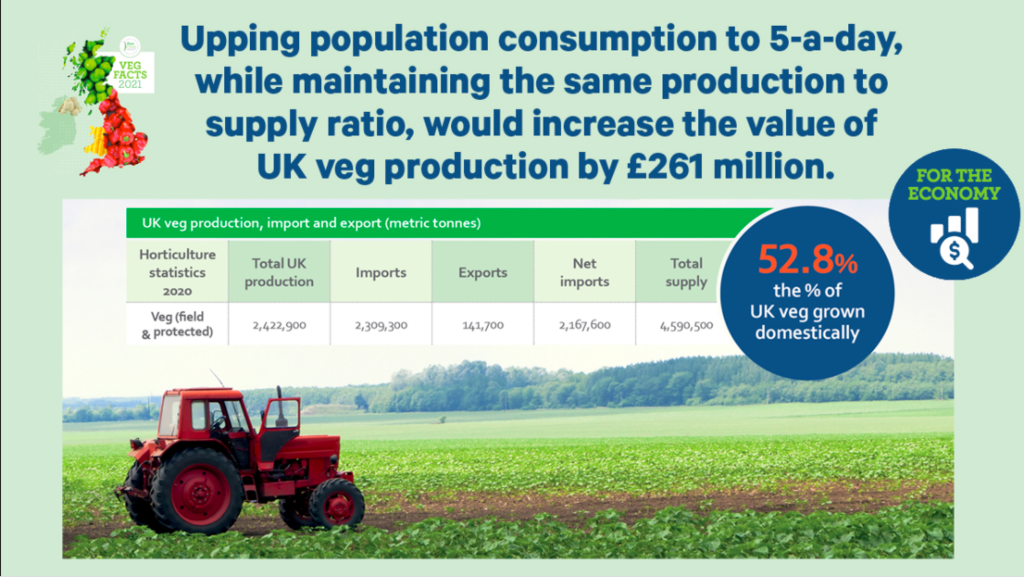 The Veg Facts 2021 report looks at how vegetables can benefit the environment and the economy as well as health. If the UK population consumed the recommended 5-a-day (with the extra consumption coming from veg) that would contribute eight additional months to the UK's average life expectancy and decrease greenhouse gas emissions by an estimated 8.2%. Furthermore, if everybody ate 5-a-day it would increase the value of UK veg production by £261 million. If consumption rose to 7-a-day of fruit and veg it would add another £1 billion to the UK economy.
A step in the right direction is the 'Eat Them To Defeat Them' campaign from Veg Power, which pits children against evil vegetables in a move to get them to eat more greens. The counter-intuitive campaign has already proven to be effective with 81% of school staff saying that the campaign was more popular than other healthy eating initiatives. 
Anna Taylor OBE, Executive Director of the Food Foundation said: "The latest report from the Peas Please initiative is a timely one – highlighting the barriers to eating enough veg that large sections of the population continue to face. Although we have seen some really encouraging progress made by our Peas Please pledgers, there has never been a more critical time to really accelerate action and ramp up vegetable intake. Veg are the golden thread connecting diets that are both more healthful and more sustainable, and we must act now to ensure that everyone in the UK is able to access and afford enough veg."
The Peas Please initiative is a partnership with Food Foundation, Food Sense Wales, Nourish Scotland, Belfast Food Network and Food NI who are working to make vegetables more appealing, accessible and affordable. Throughout June the partnership will be running a series of Veg Summit events to explore the issues highlighted in the report in more detail. To see the full agenda and to register click here.